When signals are produced by dynamically applied loads at frequencies above 0.1 Hz, or are transients, measuring instrumentation requires adequate frequency response and a wide amplifier gain range for output to the appropriate recording or display device. Such an instrument consists of an amplifier and signal conditioner with a built-in or shared power supply. Individual units are normally required for each channel when simultaneous recording or multiple channels are needed. Micro-Measurements offers three products with proven high performance and low noise in applications including impact tests, rocket motors, explosive events and engine monitoring.
 
 
 

 
 

 
 

 
 
 
2100
 
2200
 
2300
 
 
 
 
 
 
 
 
 
 

Frequency Response

 
 
DC 50 kHz (–3 dB)
 
DC 50 kHz (–0.5 dB)
DC 100 kHz (–3 dB)
 
DC 60 kHz ( –0.5 dB) 
DC 145 kHz (–3 dB)
 
 
 
 
 
 
 
 

Output (±)

 
 
10V @ 100mA
 
10V @ 10mA and 
1 VRMS @ 10mA
 
10V
 
 
 
 
 
 
 
 
Amplifier Gain
 
 
Continuously Variable 
1 – 2100
 
Continuously Variable 1 – 3300
 
Continuously Variable 
1 – 11,000
 
 
 
 
 
 
 
 

Bridge Excitation

 
 
DC: 0.5-12V
 
DC: 0.5-15V or 
0.5-30 mA
 
DC: 0.7-15V (11 steps) 0.2-7V Variable
 
 
 
 
 
 
 
 

Input Power

 
 
AC
 
AC
 
AC
 
 
 
 
 
 
 
 

Remarks

 
 
High Performance Amplifier for Simultaneous Dynamic Recording
 
High Performance, for Demanding Environments
 
High-Frequency Response Multi-Feature Signal Conditioner
---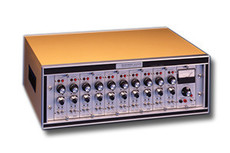 2100
---
2100 is a high performance but simple amplifier. Up to 10 channels in a rack share a common power supply. Setup is simple and intuitive, with front-panel manual controls for bridge excitation, user-definable shunt calibration, and a gain multiplier and Vernier adjustment from 1 to 2100.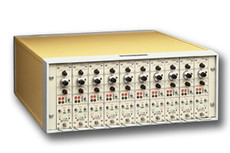 2200
---
2200 offers individual power supplies for improved channel-to-channel separation. It offers a wider gain range, high frequency response, automatic balance control and constant voltage or current excitation. It is ideal for harsh environment measurements, with a common-mode input of up to +/-350 volts, and a driven-guard shield connection for improved environmental noise rejection over conventional ground shield connection systems.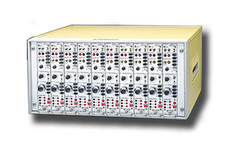 2300
---
2300 is the choice for impact and other high-speed transient events such as split Hopkinson bar and explosive tests. Separate power supplies per channel, very high frequency response and ultra-wide gain and automatic balance, 4-step user-definable shunt calibration, user-definable filters as well as switchable AC coupling make this a versatile and high-performance amplifier.