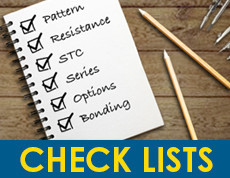 Resources for Experimental Stress Analysis and Transducer Sensing Elements
Measuring More than Just Strain
Micro-Measurements strain gages and sensors are used throughout the world in the fields of medicine, aviation, shipbuilding, and more. We're proud to create products so reliable they can be used to test the safety of bridges and ensure the accuracy of life-saving medical equipment!
In the case of experimental stress analysis, our sensors, instruments, equipment, and supplies allow for preproduction prototype evaluation, field-service testing, failure analysis, and pure research.
In the event that our customers are using transducers to measure weight, force, torque, pressure, and more, we provide the high-performing sensing elements that allow for accurate, clean data.
To learn more about the applications for our strain gages and sensors, get in touch with an expert!
Micro-Measurements Materials
Our strain gage and sensor products are designed to create perfect conditions for test and measurement on a wide variety of materials, producing reliable results even in the harshest environments.