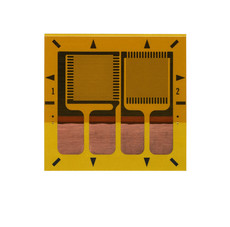 Tee Pattern Strain Gages: Multiple Sensors - One Backing
They are used where direct tension measurements, such as a bolt in tension or suspension rod in compression, is desired. A full bridge in this situation minimises pickup due to bending. Tee rosettes can also be deployed for bending measurements, especially useful on large infrastructure such as wind turbine towers. 
Adjacent gauges on the same backing will see identical temperature and therefore eliminate thermal outputs due to differential temperatures across the structure. Additionally, 45° alignment marks are provided on each T-Rosette gage so it may be accurately applied to a shaft to measure torsion. Refer to TechNote 515.
CEA Series Tee Rosette Strain Gages

 

 

 

 

 

 

 

 

 

 

 

 

---

 

---

 

---

 

---

 

---

 

---

 

---

 

---

 

---

 

---

 

---

 

---

 

---

 

---

 

---

 

---

 

---

 

---

 

 
 
 
 
 
[in/mm]
 
[in/mm]
 
[in/mm]
 
[in/mm]
 
 
 
 
 
 

 

Configuration

 

Pattern

 

Res. [Ω]

 

Gage 

Length 

 

Gage 

Width

 

Matrix

Length 

 

Matrix

Width

 

Standard STC

 

Temperature Range

 

Options

 
 
 
 
 
 
 
 
 
 
 
 
 
 
 
 
 
 
Tee Rosette Strain Gage
062UTA
 

120,

350

 

0.062

[1.57]

 

0.080

[2.03]

 

0.31

[7.9]

 

0.31

[7.9]

 

 

00, 03, 05,

06, 09, 13

 

 

–100° to +350°F 

(–75° to +175°C)

 

 

 P2, SP11

 
 
 
 
 
 
 
 
 
 
 
 
 
 
 
 
125UTA
 

120,

350

 

0.125
[3.18]

 

0.165
[4.19]

 

0.42
[10.7]

 

0.45
[11.4]

 
 
 
 
 
 
 
 
 
 
 
 
 
 
 
 
 
 
 
250UTA
 

120,

350

 

0.250
[6.35]

 

0.290
[7.37]

 

0.48

[12.19]

 

0.40

[10.16]

 
 
 
 

---

 

---

 

---

 

---

 

---

 

---

 

---

 

---

 

---

 

---

 

---

 

 
 
 
Stacked Tee Rosette Strain Gage
032WT
 
120
 

0.032
[0.81]

 

0.060
[1.52]

 

0.30
[7.6]

 

0.30
[7.6]

 
 
 
 
 
 
 
 
 
 
 
 
 
 
 
 
 
062WT
 

120,

350

 
0.062
[1.57]
 
0.120
[3.05]
 
0.33
[8.4]
 
0.33
[8.4]
 
 
 
 
 
 
 
 
 
 
 
 
 
 
 
 
 
 
 
125WT
 

120,

350

 
0.125
[3.18]
 
0.180
[4.57]
 
0.42
[10.7]
 
0.42
[10.7]
 
 
 
 
 
 
 
 
 
 
 
 
 
 
 
 
 
 
 
250WQ
 

350

 
 
 
 
 
 
 
 
 
 
 
 
 

---

 

---

 

---

 

---

 

---

 

---

 

---

 

---

 

---

 

---

 

 

 
 
 
 
 
 
 
 
 
 
 
 
 
 
 
 
 
 
 
 
 
Temperature Range

Typically used with:

M-Bond 200 Kit
 
Room temperature instant curing strain gage adhesive
 
 –25° to +150°F (–30° to + 65°C)
 
 
 
 
 
 
 
 
 
 
 
 
 
 
 
 
 
M-Bond AE-10 Kit
 
Two-component, 100%-solids epoxy system for general purpose strain gages
Room temperature cure, highly resistant to moisture and most chemicals
 
–320° to +400°F (–195° to +204°C)
 
 
 
 
 
 
 
 
 
 
 
 
 
 
 
 
 
 
M-Bond 600 Kit 
 
Two-component, solvent-thinned, epoxy-phenolic strain gage adhesive for high-performance
 
 –452° to +500°F (–268° to +260°C)
 
 
 
 
 
 
 
 
 
 
 
 
 
 
 
 
 
 
 
 
 
 
 
 
 
 
 
 
 
 
 
 
 
 
 
 
 
 
 
 
 
 
 
 
 
 
 
 
 
 
 
 
 
 
 
 
 
 
 
 
 
 
 
 
 
 
 
 
 
 
 
 

EA Series Tee Rosette Strain Gages

---

 

---

 

---

 

---

 

---

 

---

 

---

 

---

 

---

 

---

 

---

 

---

 

---

 

---

 

---

 

---

 

---

 

---

 

 
 
 
 
 
[in/mm]
 
[in/mm]
 
[in/mm]
 
[in/mm]
 
 
 
 
 
 

Configuration

Pattern

 

Res. [Ω]

 

Gage

Length 

 

Gage 

Width

 

Matrix

Length

 

Matrix

Width

 

Standard STC 

 

Temperature Range

 

Options

 
 
 
 
 
 
 
 
 
 
 
 
 
 
 
 
 
 
Tee Rosette Strain Gage
030TU
 
120
 

0.030

[0.76]

 

0.044

[1.12]

 

0.25

[6.4]

 

0.25

[6.4]

 

 

00, 03, 05,

06, 09, 13

 

   

 –100° to +350°F   (–75° to +175°C)

 

 

E, EL, P, W, SP11

 
 
 
 
 
 
 
 
 
 
 
 
 
 
 
 
030TY
 
120
 

00.030

[0.76]

 

0.044

[1.12]

 

0.30

[7.6]

 

0.15

[3.8]

 
 
 
 
 
 
 
 
 
 
 
 
 
 
 
 
 
 
 
050TGA
 
350
 

0.050

[1.27]

 

0.070

[1.78]

 

0.34

[8.6]

 

0.17

[4.3]

 
 
 
 
 
 
 
 
 
 
 
 
 
 
 
 
 
 
 
 
 
 
062TJA
 
350
 

0.062

[1.57]

 

0.080

[2.03]

 

0.38

[9.7]

 

0.19

[4.8]

 
 
 
 
 
 
 
 
 
 
 
 
 
 
 
 
 
 
 
 
 
 
 
 
 
062TTA
 

120,

350

 

0.062

[1.57]

 

0.075

[1.91]

 

0.28

[7.1]

 

0.26

[6.6]

 
 
 
 
 
 
 
 
 
 
 
 
 
 
 
 
 
 
 
 
 
 
 
 
 
062TZA
 

350

 

0.062

[1.57]

 

0.075

[1.91]

 

0.28

[7.1]

 

0.26

[6.6]

 
 
 
 
 
 
 
 
 
 
 
 
 
 
 
 
 
 
 
 
 
 
125TB
 
350
 

0.125

[3.18]

 

0.150

[3.81]

 

0.36

[9.1]

 

0.44

[11.2]

 
 
 
 
 
 
 
 
 
 
 
 
 
 
 
 
 
 
 
125TG
 
350
 

0.125

[3.18]

 

0.150

[3.81]

 

0.59

[15.0]

 

0.21

[5.3]

 
 
 
 
 
 
 
 
 
 
 
 
 
 
 
 
 
 
 
 
250TM
 

120 ,

350

 

0.250

[6.35]

 

0.300

[7.62]

 

0.53

[13.5]

 

0.75

[19.1]

 
 
 
 

---

 

---

 

---

 

---

 

---

 

---

 

---

 

---

 

---

 

---

 

---

 

 
 
 
 
 
 
 
 
 
 
 
 
 
 
 
 
 
 
 
 
 
Temperature Range

Typically used with:

M-Bond 200 Kit
 
Room temperature instant curing strain gage adhesive
 
 –25° to +150°F (–30° to + 65°C)
 
 
 
 
 
 
 
 
 
 
 
 
 
 
 
 
 
M-Bond AE-10 Kit
 
Two-component, 100%-solids epoxy system for general purpose strain gages
Room temperature cure, highly resistant to moisture and most chemicals
 
–320° to +400°F (–195° to +204°C)
 
 
 
 
 
 
 
 
 
 
 
 
 
 
 
 
 
 

Two-component, solvent-thinned, epoxy-phenolic strain gage adhesive for high-performance

 
 –452° to +500°F (–268° to +260°C)
 
 
 
 
 
 
 
 
 
 
 
 
 
 
 
 
 
 
 
 
 
 
 
 
 
 
 
 
 
 
 
 
 
 
 
 
 
 
 
 
 
 
 
 
 
 
 
 
 
 
 
 
 
 
 
 
 
 
 
 
 
 
 
 
 
 
 
 
 
 
 

WK Series Tee Rosette Strain Gages

---

 

---

 

---

 

---

 

---

 

---

 

---

 

---

 

---

 

---

 

---

 

---

 

---

 

---

 

---

 

---

 

---

 

---

 

 
 
 
 
 
[in/mm]
 
[in/mm]
 
[in/mm]
 
[in/mm]
 
 
 
 
 
 

Configuration

Pattern

 

Res. [Ω]

 

Gage 

Length

 

Gage 

Width

 

Matrix

Length

 

Matrix

Width

 

Standard STC 

 

Temperature Range

 

Options

 
 
 
 
 
 
 
 
 
 
 
 
 
 
 
 
 
 
Tee Rosette Strain Gage
062TT
 
350
 

0.062

[1.57]

 

0.075

[1.91]

 

0.28

[7.1]

 

0.26

[6.6]

 

 

00,03,05,

06,09,13

 

  

 –452° to +550°F  (–269° to +290°C)

 

 

W, SP11

 
 
 
 
 
 
 
 
 
 
 
 
 
 
 
 
125TB
 
1000
 

0.125

[3.18]

 

0.150

[3.81]

 

0.36

[9.1]

 

0.44

[11.2]

 
 
 
 
 
 
 
 
 
 
 
 
 
 
 
 
 
 
 
125TM
 
350
 

0.125

[3.18]

 

0.150

[3.81]

 

0.36

[9.1]

 

0.43

[10.9

 
 
 
 
 
 
 
 
 
 
 
 
 
 
 
 
 
 
 
125TQ
 
1000
 

0.125

[3.18]

 

0.150

[3.81]

 

0.42

[10.7]

 

0.47

[11.9]

 
 
 
 
 
 
 
 
 
 
 
 
 
 
 
 
 
 
 
 
 
 
250TB
 
1000
 

0.250

[6.35]

 

0.300

[7.62]

 

0.63

[16.0]

 

0.81

[20.6]

 
 
 
 
 
 
 
 
 
 
 
 
 
 
 
 
 
 
 
 
 
 
 
 
 
250TM
 
350
 

0.250

[6.35]

 

0.300

[7.62]

 

0.53

[13.5]

 

0.75

[19.1]

 
 
 
 
 
 
 

---

 

---

 

---

 

---

 

---

 

---

 

---

 

---

 

---

 

---

 

---

 

 

 

 

 

 

 

 
 
 
 
 
 
 
 
 
 
 
 
 
 
 
Temperature Range

Typically used with:

M-Bond 200 Kit
 
Room temperature instant curing strain gage adhesive
 
–25° to +150°F (–30° to + 65°C)
 
 
 
 
 
 
 
 
 
 
 
 
 
 
 
 
 
M-Bond AE-10 Kit
 
Two-component, 100%-solids epoxy system for general purpose strain gages
Room temperature cure, highly resistant to moisture and most chemicals
 
 –320° to +400°F (–195° to +204°C)
 
 
 
 
 
 
 
 
 
 
 
 
 
 
 
 
 
M-Bond 600 Kit 
 
Two-component, solvent-thinned, epoxy-phenolic strain gage adhesive for high-performance
 
 –452° to +500°F (–268° to +260°C)
 
 
 
 
 
 
 
 
 
 
 
 
 
 
 
 
 
 
 
 
 
 
 
 
 
 
 
 
 
 
 
 
 
 
 
 
 
 
 
 
 
 
 
 
 
 
 
 
 
 
 
 
 
 

C2A Series Tee Rosette Strain Gages

---

 

---

 

---

 

---

 

---

 

---

 

---

 

---

 

---

 

---

 

---

 

---

 

---

 

---

 

---

 

---

 

---

 

---

 

 
 
 
 
 
[in/mm]
 
[in/mm]
 
[in/mm]
 
[in/mm]
 
 
 
 
 
 
Configuration
Pattern
 
Res. [Ω]
 

Gage

Length 

 

Gage 

Width

 

Matrix

Length

 

Matrix

Width

 
Standard STC 
 
Temperature Range
 
Options
 
 
 
 
 
 
 
 
 
 
 
 
 
 
 
 
 
 
Gages With Pre-attached Cables
062LT
 
120 , 350
 

0.062

[1.57]

 

0.070

[1.78]

 

0.21

[5.3]

 

0.29

[7.4]

 

 

06, 09, 13

 

 

 –60° to +180°F   (–50° to +80°C)

 

 

 

 
 
 
 
 
 
 
 
 
 
 
 
 
 
 
 
125LT
 
120 , 350
 

0.125

[3.18]

 

0.150

[3.81]

 

0.29

[7.4]

 

0.40

[10.2]

 
 
 
 

---

 

---

 

---

 

---

 

---

 

---

 

---

 

---

 

---

 

---

 

---

 

 
 
 
 

 

 

 

 

 

 

 

 

 

 

 

 
 
 
 
 
 
 
 
 
 
 
 
 
 
 
 
 
 
 
 
 
Temperature Range

Typically used with:

M-Bond 200 Kit
 
Room temperature instant curing strain gage adhesive
 
–25° to +150°F (–30° to + 65°C)
 
 
 
 
 
 
 
 
 
 
 
 
 
 
 
 
 
M-Bond AE-10 Kit
 
Two-component, 100%-solids epoxy system for general purpose strain gages
Room temperature cure, highly resistant to moisture and most chemicals
 
–320° to +400°F (–195° to +204°C)
 
 
 
 
 
 
 
 
 
 
 
 
 
 
 
 
 
M-Bond AE-15 Kit
 
Two-component, 100%-solids epoxy system for general purpose strain gages
Room temperature cure, highly resistant to moisture and most chemicals
 
 –320° to +200°F (–195° to +95°C)
 
 
 
 
 
 
 
 
 
 
 
 
 
 
 
 
 
 
 
 
 
 
 
 
 
 
 
 
 
 
 
 
 
 
 
 
 
 
 
 
 
 
 
 
 
 
 
 
 
 
 
 
 
 
---