The New Model 700B - Rapid Capacitive Discharge Welder
Model 700B is the next-generation of Micro-Measurements Model 700 Welder that has been used for decades for installing tens of thousands of strain gages world wide. It was developed based on this experience along with customers input and support, to provide more capability and flexibility, all the while being offered in a smaller, more portable package.
Designed for spot welding the Micro-Measurements line of CEA, LWK, LEA, LZN and LZE weldable strain gages, this new welder combines an extremely fast spot welding rate with enhance safety and portability features that you have come to expect from Micro-Measurements. The 700B is rugged, efficient and reliable in all types of adverse field conditions.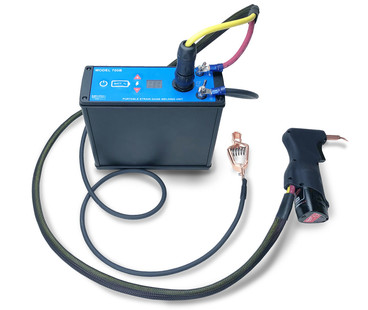 Features:
Light weight and compact size.
Weld energy is continuously adjustable from 10 to 60 joules, making the Model 700B an excellent choice for installing weldable strain gages and temperature sensors, as well as small thermocouples and light-gage metal.
Fast welding rate – up to 60 welds per minute
Replaceable rechargeable battery allows smooth continuous operation.
"Low-battery" indication to warn the user when the Li-ION battery requires charging.
Optional carrying bag with shoulder strap and belt loops providing convenient storage space for cables, batteries, battery charger welding tips and instruction manual